General School Bus Safety
The school bus is the safest vehicle on the road and the safest form of ground transportation. While the school bus is the safest way to travel to and from school, children still need to be careful as they walk to the bus stop, get on and off the school bus, and ride the school bus. Obstructed views and distracted drivers put children at risk. Help children learn safety rules to keep them safe. Encourage children to always practice safe school bus behaviors to remain safe in and around school buses. Teach your child to follow these safety practices:
Walking to the School Bus Stop
Be a role model and teach proper pedestrian behavior. Children under ten years old should never cross a street without an adult. Use discretion with older children based on their knowledge, skill and walking route.
Follow the rules of the road, obeying all traffic signs and signals.
Use sidewalks when walking to the bus stop.

When there are no sidewalks, walk facing traffic and stay on the side of the road out of the traffic lane.

Watch for vehicles backing out of driveways and parking spaces.
Always cross at the corner. Young children should cross with a parent, adult or crossing guard.
Always stop at the curb, or any driveway or alley which crosses a sidewalk, to look for traffic.
Look Left-Look Right-Look Left again to make sure the road is clear before you cross the street and continue to scan while crossing.

Cross only on a new "green" or "walk" light.
Teach children to wait until no cars are coming from either direction before they cross the street.
BE SAFE, BE SEEN. Make eye contact with vehicle drivers to be sure that the driver sees you.

Children who cross the street should cross in front of the school bus. Stay at least 10 giant steps (10 feet) in front of the school bus and make sure that the bus driver sees them before they step off the curb.
In winter, dress for the weather in bright colored clothing so you are easily seen, but make sure you can see and hear traffic around you.
On wintry or rainy days, give the bus more room. They need more room to stop when the road is slippery.
School Bus Danger Zone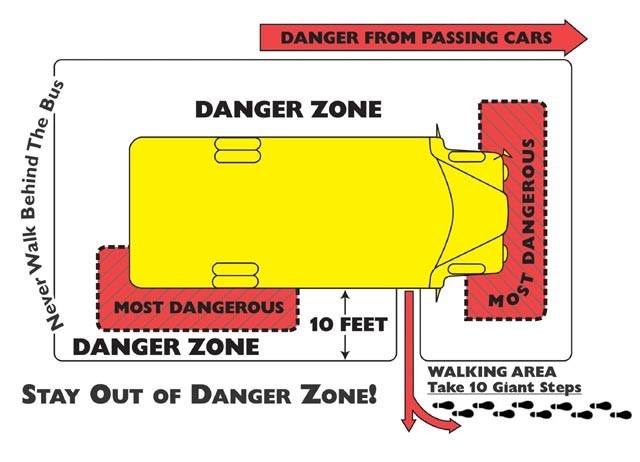 The Danger Zone is the 10-foot area around the school bus. Always stay out of the Danger Zone.
Website Resources
Related Items