The Basics: Bicycles and Helmets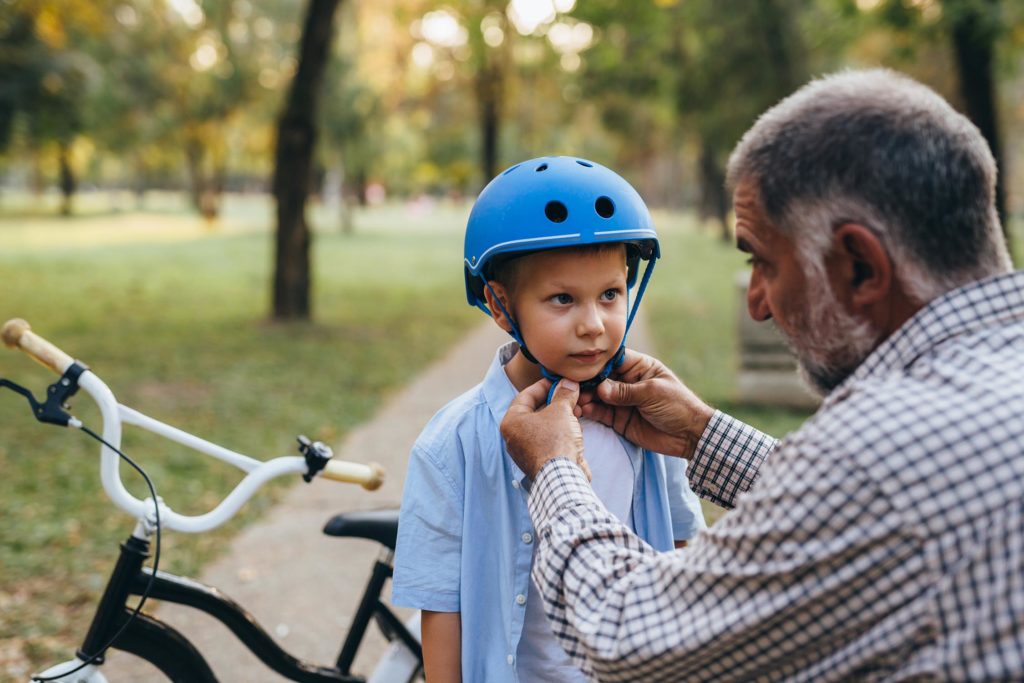 Bicycling can be fun and recreational but is also a form of transportation. It is important to educate children and adults on the importance of bicycle safety techniques and the proper use of a bicycle helmet. It is important to choose a bike that is an appropriate size for your child. Getting a bike that is bigger so the child can "grow into it" is not easy to learn on or to ride safely.
How to Fit a Bike:
Lay your arm along the top bar with the elbow touching the bike seat. Your fingertips should just reach the handlebars.
Straddle the center bar. The child should be able to stand with both feet flat on the ground with a 1-inch clearance between the top bar and the crotch.
Adjust the bike seat so you can sit and balance on your toes. While sitting on the bicycle seat with hands on the handlebar, the child must be able to sit with the balls of both feet on the pedals.
When seated, the child's legs should be almost fully extended when the ball of the foot is on the pedal at the bottom of the pedal stoke.
When buying a bike with hand brakes for an older child, make sure the child can comfortably grasp the brakes and apply sufficient pressure to stop the bike. Adjust the seat so you can sit on the seat and balance on your toes.
Bicycle Helmets
Bicycle helmets should always be worn when riding a bike. All bicycle riders and passengers under 12 years of age are required to wear an approved helmet. It is important to select a correctly sized helmet for your child.
How to Fit a Helmet
Place helmet level on the head. It should be snug and cover the forehead.
Adjust the helmet straps so when buckled it cannot move from side-to-side or front-to-back.
Adjust the chin strap so there is about one-finger width of space between the chin and the chin strap.
The National Highway Traffic Safety Agency's video on how to properly fit your bicycle helmet.
Tips: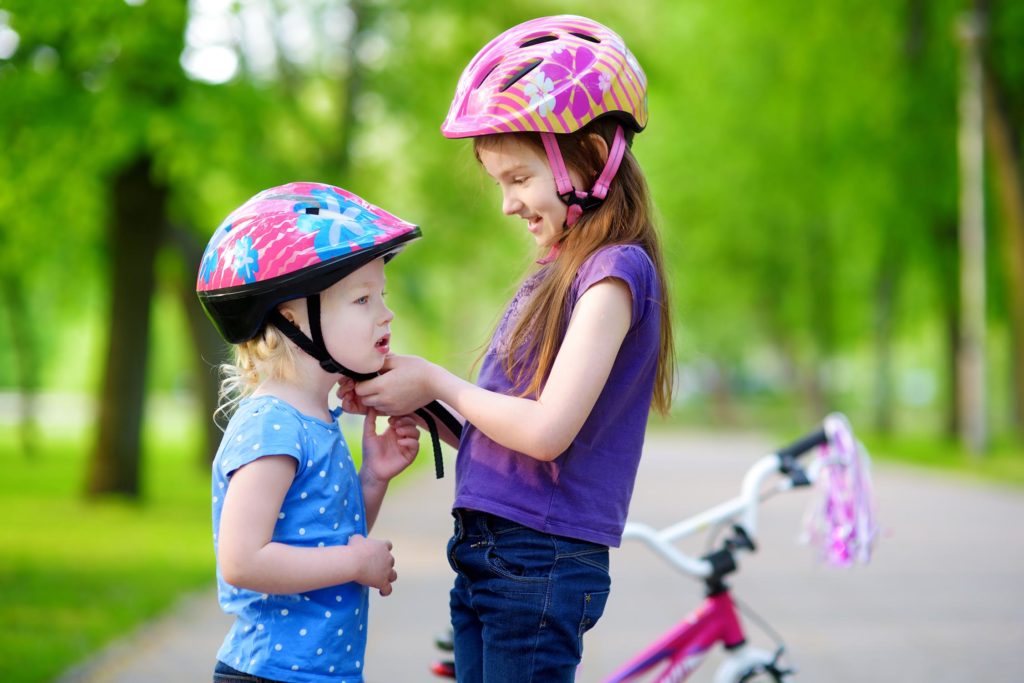 Every new helmet should be labeled that it meets the U.S. Consumer Product Safety Commission Standard (CPSC). Older helmets may state that it meets ANSI, ASTM or Snell standards.
Use the foam pads or adjust the fitting ring, following the manufacturer's instructions, to fit the helmet so it does not move on the head.
The front of the helmet should rest two finger widths above the eyebrows.
The side straps should be adjusted so they meet in a "V" under each ear.
Adjust the chin strap tight enough under the chin so that the helmet pulls down when the child opens their mouth
Related Items