Bicycles are Vehicles in PA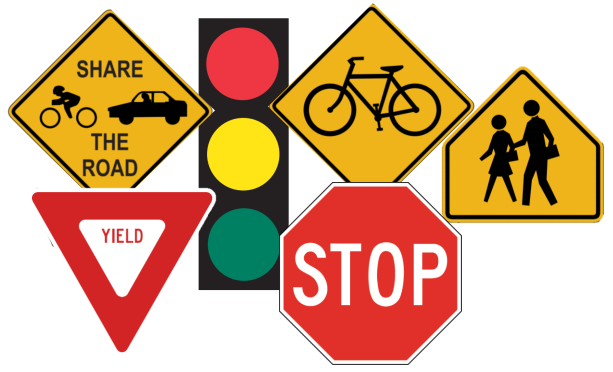 Pennsylvania Law
Bicycles have the same rights as cars in PA, but also have to follow the same laws.
CHAPTER 35: SPECIAL VEHICLES AND PEDESTRIANS – SUBCHAPTER A, OPERATION OF PEDALCYCLES
Every person riding a bicycle on a roadway has all the rights and the duties as a driver of a vehicle.
The parent / guardian shall not permit a child to violate Pennsylvania law relating to the operation of bicycles.
A person riding a bicycle shall be seated across a permanent seat attached to the bicycle. The number of riders on a bicycle depends on the number of permanent seats available except when an adult rider transports a child in a bicycle child carrier which is securely attached to the bicycle or in a trailer that is towed by the bicycle.
Every person operating a bicycle upon a highway shall obey the applicable rules of the road.
A person riding a bicycle upon a sidewalk or bicycle path used by pedestrians shall yield the right-of-way to any pedestrian and shall give an audible signal before overtaking and passing a pedestrian.
Children under 12 years of age driving a bicycle or riding as a passenger on a bicycle shall wear a bicycle helmet. This includes a child who rides in a bicycle child carrier attached to the bicycle or in a trailer.
Bicycle Safety Rules of the Road

Adjust the bicycle to fit you and inspect your bicycle to make sure it is working safely.
Ride on the right side of the road, with traffic.
Obey all traffic control devices, signs, and signals.
If you are riding with a group, ride in single file.
Slow down when approaching an intersection.
Always Look Left-Look Right-Look LEFT, then look over your shoulder before entering the intersection.
Watch for vehicles backing out of the driveway – look for tail lights, movement of the tires and listen for the car motor.
Know and use the bicycle hand signals to help communicate with other vehicles.
Be Seen
Be Predictable: Ride in a straight line, not in and out of cars and signal your moves to others.
Wear bright colored clothing and reflective tape or markings to help drivers to see you. Remember, just because you see the driver, it does not mean the driver sees you.
Avoid riding at night. Equip your bike with reflectors, a white headlight and a bell or a horn. PA Law requires a front white lamp, a rear red reflector and amber reflectors on each side of the bike when used from sunset to sunrise.
For a guide to selecting a bicycle helmet for your child, or detailed bicycle helmet information, please see the Bicycle Safety Website Resources.
Related Items