Planning Holiday Travel
with
Child Passenger Safety in Mind
Planning to travel over the holiday? Add safety to your travel plans.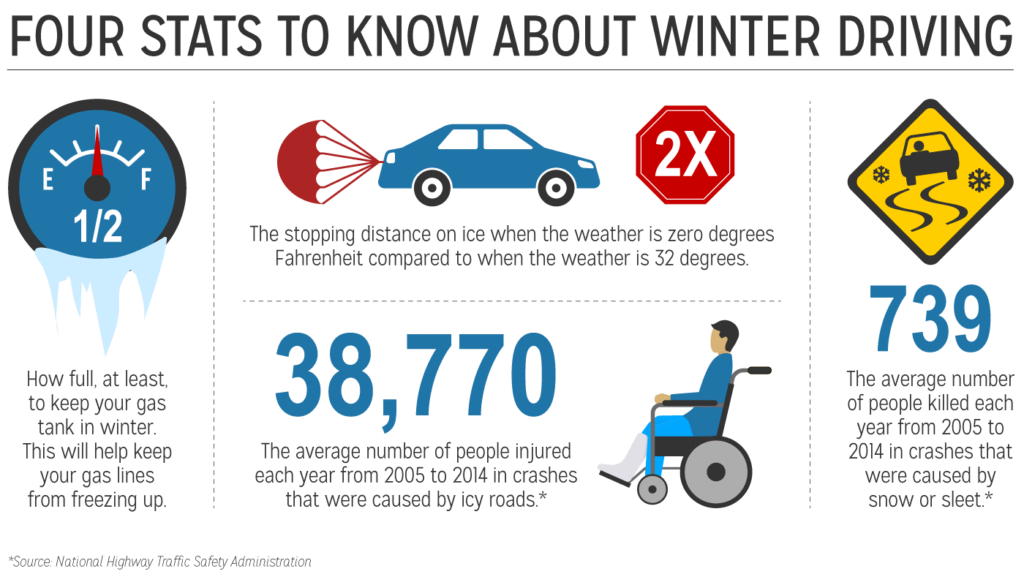 Tips to prepare for road conditions, car seat safety and keeping children entertained.
Road Trip Safety List
Vehicle: Make sure your vehicle is in good working order. Have your car serviced to identify needed repairs. Have your mechanic check fluid levels, hoses, and tires.
Route: Check the weather forecast and road conditions before starting your trip. Allow extra time to arrive at your destination to adjust your driving based on road conditions. Take an emergency kit in the car stocked with common items you may need in case of inclement weather. Consider including the following:
Ice scraper and brush: It is recommended that an ice scraper and brush be in your car for the entire winter. These tools will help you remove snow and ice from your windshield and windows, so you can have full visibility in wintry conditions.
Sand/kitty litter: Use the sand or kitty litter to create traction to get your vehicle moving if the car gets stuck in the snow.
Flares or reflectors: Drivers have decreased visibility at night, and it's even worse when you add snow to the mix. If the unfortunate happens and you are stuck on the side of the road, flares and reflectors will help other drivers see you.
Jumper cables: Freezing temperatures can take a toll on the car's battery. Keep jumper cables on hand so you can get your car moving.
Flashlight: It gets dark early in the winter. Even if you don't plan on driving at night, you may still find yourself in the dark. Keep a flashlight and extra batteries in your vehicle in case you get stranded or stuck.
Blanket/Warm Clothes: In the event you break down and do not have heat, extra blankets, gloves, hats, and extra clothing layers will make you more comfortable while you wait for assistance.
Cell Phone/Charger: Make sure your cell phone is charged so you can contact family and/or friends if your travel plans change or you are delayed because of weather conditions.
Road Trip Checklist When Travelling with Children
All passengers are buckled-up during travel. Securing all passengers in the appropriate car seat, booster seat and seat belt is the most effective way to reduce the severity of injury in a crash. Be a good role model for children by making sure all adults are wearing a seat belt. Children are more likely to buckle up when parents buckle up. Be sure young children are safety secured in the right car seat or booster seat.
Follow these tips to ensure children are safe for a trip:
Get your child's car seat checked: There are many resources in Pennsylvania that allow parents and caregivers to have their car seats checked for proper use and installation.  Call 1-800-CAR-BELT or check for a list of fitting stations near you by clicking here.
Remember that the back seat is the safest place for children to ride. 
Never leave your child alone in the vehicle for even a moment.  Vehicle temperatures can drop rapidly putting a child in danger of freezing or hypothermia.
Provide activities and distractions for children to keep children entertained:

Bring safe toys for children: Hard plastic toys may become a dangerous projectile in a crash.

Plan travel around a child's nap schedule. 

Pack snacks and drinks. Having some light snacks in the car is also a good idea in the event of a breakdown.

Plan for frequent stops for children to stretch and move around.

Adjust the harness to fit the child. Remove bulky coats that will interfere with tightening the harness. To keep the child warm, slip the child's arms through the sleeves to wear the coat backwards over the snug harness.
Make sure the car seat harness is snug child is not wearing a bulky coat that may interfere with their harnesses on the car seat.  Take off their coat after the car is warmed up and make sure harnesses are snug against the child's body.
Check the car seat installation every time you use the car seat. The car seat should move less than 1-inch from side-to-side or front-to-back when pulled at the belt path.
For more information on the selection and use of car seats, click here.